The Top 5 towns in the Lot Valley
Cahors (Lot)
In a meander of the Lot, the Lot's little beauty. It cuts a fine figure, with its arcade houses, bricks and timber frames, its cathedral and its Valentré bridge (both of which are UNESCO World Heritage sites).
Here is a good idea : try exploring it as you make your way through its secret gardens, recent creations, quite out of the ordinary and in different colours. These are recent creations, inspired by the Middle Ages, a time when Cahors knew fame and prosperity. To explore these 30 little gardens one after the other, follow the bronze acanthus leaves set in the pavement.
Figeac (Lot)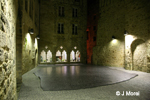 Figeac, a "Town of Art and History". Its history goes back well over a thousand years. By the 13th-14th C., Figeac was a thriving centre of trade and commerce, whose rich merchants were to be found all over Europe and around the Mediterranean. This enabled some of the most ornately-decorated private houses in the Lot to be constructed here; many of which still remain. A stroll around the old town is at once a delight and an education.
A must : the World Scripture Museum
(This fascinating museum, dedicated to the world's major writing systems, occupies the house in which was born Jean-François Champollion, who cracked the lost code of Egyptian hieroglyphics in the early 19th C. )
Mende (Lozere)
The capital of the Gévaudan brushes shoulders with the Cévennes. Its history goes back to the Middle Ages, with its cathedral like a Gothic vessel. its houses with their projecting stories and its 13th century bridge. Know also for sports (it has been used to host several marathons and enduro), Mende was the city stage of Tour de France in 1995 and 2010.
Saint Flour (Cantal)
Built on a spur, the medieval city "Land of art and history" is imposing with its Gothic cathedral and its lava buildings. For lovers of old stone work, a treat : Renaissance façades and courtyards, medieval stalls and an indoor market set up in a former collegiate church.
Tourist Office information website
Villeneuve sur Lot (Lot-et-Garonne)
In all its spendlour on the banks of the Lot, this river fortified town was built by Alphonse de Poitiers, brother of Saint Louis, in the 13th century. It has since lost its fortifications, but kept its towers, one of which is the Pujol tower, its timber framed houses and its central square, lined with leafy canopies or arcades. It is here that a lovely market is open for business on Tuesdays and Saturday mornings. A contemporary of the Pont Valentré in Cahors, the Pont-Vieux makes along with the Bout-du-Monde chapel a perfect postcard. Villeneuve sur Lot is also the Prune capital.
A choice holiday destination with its water sport centre, a distinctive heart to the town and some pretty places to visit, such as its stud farm or the Gayac Mill, the museum of Fine Arts
Visit Villeneuve sur Lot website