On the tracks of the Laguiole cheese and of the Aligot from Aubrac (Aveyron)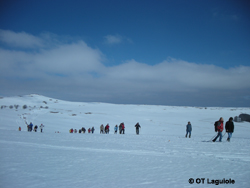 Put on your cross country skis or your snowshoes and head out from the ski stations of Laguiole and Brameloup for a 20 km free hike in search of local produces. From buron to buron, a warm welcome guaranteed!
The 29th edition is taking place on the 8th March 2015
More information on the Laguiole website
Festival de la Tourtière (Lot-et-Garonne)
The Tourtière is a traditional pastry that is long and difficult to prepare. It has an apple or prune filling and is flavoured with a touch of Armagnac before it is cooked. Come and celebrate this traditional fruit pie at Penne d'Agenais and at Tournon d'Agenais during the gourmet festivities organised by the Brotherhood of the Tourtière. On the menu, competitions and tasting sessions.
12th July 2015 at Penne d'Agenais
and on the 15th August 2015 at Tournon d'Agenais
The Prunes festival (Lot-et-Garonne)
A fitting hommage to this fruit at Saint-Aubin. In the program: plum and prune market, farm produces, cakes, arts and crafts, non-stop events, folk groups, games on the theme of prunes.
13th September 2015 at Saint Aubin
Les Toqués du Cèpe (Lozere)
The town of Mende becomes the capital of the king of mushrooms and celebrates "Les Toqués du Cèpe (The Cep Hats)". For this 4th edition, it'll be the whole town of Mende which will chime to the hour of the cep. The streets and squares become a forest with a frothy ground littered with giant mushrooms, in a cheerful musical atmosphere.
2nd and 3rd October 2015 in Mende
More information coming soon on Mende Tourist Offfice website